Not only did we design and build an awesome website, ecommerce platform and fanzone area, Cozy Digital are happy to have become the official website and shorts sponsor for the SFL football team Cowdenbeath FC, also known as The Blue Brazil.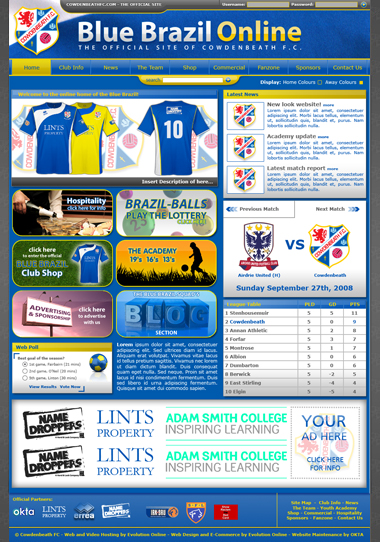 Click the image above to visit the website.

This project is a combination of completely bespoke databases that record all match and player statistics as well as having forums for supporters to connect with the club and each other. The website also has a great ecommerce area allowing the club to sell to its fans worldwide as well as allowing pick up from the club.
Some of the feedback on the website (many from fans of other teams which is impressive!)

- "Just had a good surf around it. Really smart. Design looks really
attractive and your fanzone bit is brilliant (if you're a Cowdung fan)"

- "It's a great website - spent ages on it mainly in the Fanzone bit. Lots
of cracking photos on it that I havent seen before."

- "I spent far longer on the Fanzone bit than I'd intended. Tonnes of stuff
on it."

- "Fantastic. Must be one of the best sites in Scottish football."

- "Fantastic website."

- "Quality site, agree one of the best sites in scottish football. Fanzone
bit is quality"

- "If this new site is maintained as well as its been set up till now it
will be the best outside the SPL. Well done to all involved"

- "Wow that site is phenomenal. Probably the best site of all the clubs
involved in the scottish leagues."

- "Really impressive site there, looks like it will be a full time job
keeping it up to date though since there are so many bits to it. Good work
by the Blue Brazil though and the boys at Cozy Digital !"

- "Think you have done a great job with the new site. LOADS more stuff to
look at and very easy to navigate your way through."

- "Tremendous."