Comprehensive Keyphrase Analysis ✔
Your SEO consultant will research at length every keyphrase that is relevant to your website that will bring you motivated traffic and boil these down to a set of optimal keyphrases that we will use as the basis of your SEO campaign.
On-Site Diagnostic Check, Recommendations & Consultancy ✔
Your SEO Consultant will analyse your website, page by page and offer you a number of recommendations for changes to your website that will optimise it for search engines and your users. This will be followed up by further consultation as your campaign progresses.
Free Lifetime listing on the MOO Business Directory ✔
Our directory is a growing human edited database for businesses online. We will add you to this list free of charge. This is a source for customers looking for businesses and will help drive additional traffic to your site.
Advanced Google Analytics Including Training, Setup and Support ✔
Google Analytics is the number one enterprise-class online analytical tool as used by businesses around the world. It is a powerful, flexible tool that amongst other things helps you to make your website more effective. Your SEO Consultant will help you set up a Google analytics account, take you through its features and support you in its use through throughout your campaign.
Usability Analysis Report ✔
Usability is a term which refers to the way users interact with your website. We can bring you all the traffic under the sun, but if your website is not optimised to receive and convert your visitors into the paying customers or leads that you desire, you will not see the benefits. This is why we carry out a usability analysis of your website and provide you with a report that will include recommendations of things we recommend that you change.
Main Competitor Analysis ✔
We will research your main online competitors and show you where and why they are ahead of you in the search engine rankings. This will give us the ability to target your campaign accordingly and gives you an idea of what you are up against.
XML Site Map Creation ✔
An XML Sitemap assists the search engines in indexing your website and helps them to understand your website's structure. Standard xml sitemaps can be manually created or generated using specialised software. The best sitemap.xml is an automatically updating sitemap.xml as this won't become outdated as new pages are added to your site.
A sitemap.xml enables search engines such as Google to index your entire site without missing any pages. It will also encourage search engines to crawl your site sooner and more often, which could affect your rankings.
Setup of Google Webmaster Tools ✔
Google Webmaster Tools is a great way of finding out if Google has any issues with your website, for example Crawl Errors and HTML Improvements
Webmaster Tools is also a great way of letting Google know about your website by uploading your sitemap.xml which has been created for your site.
Setup of Heatmaps To Analyse User Behaviour ✔
A heatmap is a tool that is used to gain an understanding of the behaviour of visitors that come to your website. A heatmap records the clicks on your website of the users that visit your website. It is a useful tool to use to understand which parts of your website are 'hot' and which parts are not. The data that we obtain from heatmaps will allow us to advise you on how to tailor the information that you present to your users to best convert traffic that comes to your website into sales or lead: it is important not only to get new traffic coming to your website but also to make sure that once you get that traffic to your website that you convert it into the sales or leads that you desire.
Setup of Google Local Business Listing (Google Places) ✔
Having an accurate Google Places listing is a major key in optimising your business in local search rankings.
Some of the key benefits of having an accurate listing are as follows
A strong Google Places listing can help to drive more targeted search traffic to your business
You do not need a storefront
Mobile Phone Users can find your business listing immediately
Your website, mailing address and phone number are displayed in your listing allowing customers to contact you more easily
A Google user can more easily see on the map where your business is based geographically, which can sometime be their main reason for choosing a particular business to use
Setup of YELP to Optimise Apple Maps Listing ✔
Similar to optimising your business for Google Places it is also important to optimise your business for Apple Maps by optimising you Yelp listing.
Similar to Google Places Yelp is a place where you list your businesses details. Yelp helps people find what they are looking for in a place, may that be a coffee shop, restaurant, bar or shoe shop.
Yelp is integrated with Apple maps and is used by Apple's iOS 6, all iPads and iPhones as far back as the iPhone 3GS, and so it is important to be properly optimised for people trying to find you using and iPad or iPhone.
Setup of Cozy Labs to Track Keyphrase Rankings ✔
Cozy Labs is an online software tool the will allow you to track key information about your website, such as your websites position in search engines for specific keyphrases This will help to find out what works and what doesn't for your website.
Not only will labs allow you to track specific keyphrases, but you can also use the software to monitor the number of occasion your site is mentioned in Facebook, Twitter and other social bookmarking sites.
Design and Create Business Blog (free blog worth £350) ✔
Not only is a blog a great way for you to connect with your customers, it can be an important aspect of your SEO campaign. By uploading unique quality content to your website, via your blog, you show the search engines that your website is worth indexing more regularly. We will provide a blog that is tied in to your website's design that you can use for this exact purpose.
Ongoing SEO Strategy & Consultation Call ✔
Every month your SEO Consultant will contact you to discuss the details of how your campaign is progressing. This may involve talking through how your rankings are progressing, recommendations for any changes in the direction of your campaign or anything else which they consider to be important for your progress.
Dedicated Account Manager ✔
When you are ready to start your campaign you will be assigned one of our SEO Consultants, who will from that point on be your dedicated account manager. They will be your personal point of contact for all aspects of your campaign and will be fully committed to helping you reach your goals.
Targeted Link Building ✔
Your SEO Consultant will research and carry out a link building campaign on your behalf to build strong links to your website.
SEO Article Writing and Distribution (to increase keyphrase rankings) ✔
Our copywriting team will create unique articles based on your industry that people want to read, which your SEO Consultant will distribute to the best locations for building strong keyphrase specific links back to your site. This will improve your rankings for each of your specific targeted keyphrase.
Advanced Content Outreach Program ✔
One of the mistakes that website owners make is believing that the more links they have coming to their website the better. This may have been the case back in the early days of Google; however things have changed these days as Google looks at a number of key factors when it comes to links.
Three examples of the major factors that Google look at are the quality of the links, the variety of links and the relevancy of the website that is linking to you.
Our advanced content outreach program is a network that we use whereby we can write quality content for quality websites in your industry in return for top quality industry related links back to your website. As part of our SEO package we ensure that the links coming to your website are of good quality and relevant to your sector.
Cozy Digital Labs Tracking Software ✔
You will have access to Cozy Digital's 'Labs Tracking Software', which is an extensive collection of historical tracking information that gives you deep insight into the progress of your campaign. When you log in you will be able to explore not only how your rankings are doing, you will also be able to look at page rank, backlinks coming into your site, the keyword density of pages on your site, pages you have indexed and much more. It comes complete with exportable graphs too.
Additional Email and Telephone Support* ✔
If there is any reason you need to speak to your SEO Consultant about anything regarding your campaign that is not covered in your monthly call, you are welcome to get in touch by phone or by email.
*subject to fair use policy
Free $75 Voucher for Google AdWords (Pay Per Click) ✔
We offer all of our clients a free $75 Google AdWords voucher which you can use to pay for paid advertising in Google search results.
Google Shopping Optimisation Consultation ✔
Google Shopping is a terrific way to drive traffic to your website.
As part of our SEO package we carry out consultation with our clients regarding Google Shopping Optimisation.
By looking at the different elements required to allow a customer to find and purchase a product from your website we will ensure that your site is fully optimised to meet Google's criteria.
Conversion Consultation Including Heatmap Analysis ✔
One of the fundamental goals of every website is to try and get visitors to complete one of your goals or 'convert'. This might be filling in a form or buying an item. Unfortunately there are a number of factors which can lead visitors to leave a website before they reach your goals. Your SEO Consultant will analyse you site and provide you with key recommendations on how to improve your 'conversions' so that more of your visitors complete more of your goals.
Detailed Monthly Reporting ✔
Every month your SEO Consultant will compile a report for you which will comprise a detailed breakdown of your on-going campaign. It will cover aspects such as your traffic levels and rankings and displays them in printable graphs for your convenience.
Cozy Digital to Manually Write and Create Titles and Meta Tags ✔
Titles and Meta tags are very important for helping search engines to find and properly understand what your website, and deep level pages, are about. Your SEO Consultant will create these for you in a style that search engines (as well as users) like to see.
Blog Content Creation ✔
Our copywriting team will research your industry and produce blog articles for use on your blog. A well written blog is important, not only for your users to read, but also for adding regular content on your site. This is something search engines look for so they know that your site is active and is worthy of ranking highly in their search results.
Social Media Exposure (submissions to Facebook, Twitter, DIGG, Stumbleupon etc.) ✔
Social media is important for getting your name out there and talked about, as well as for directing traffic to you. Your SEO Consultant will expose your website over a number of social media outlets using the information on your blog as a base.
Monthly Keyphrase Research ✔
In addition to your initial comprehensive keyphrase analysis, your SEO Consultant will revisit your keyphrases every month to look at any changes that can be made. This might include introducing new keyphrases, changing existing ones or exploring new angles which will bring you increased or better traffic as your campaign progresses.
Press Release Writing and Submission ✔
A press release is a press statement directed at the media and potential customers which is designed to attract favourable media attention. Our copywriting department will research and write, through consultation with you, a professional press release promoting any aspect of your business you wish. Your SEO Consultant will then submit it to a number of news outlets to regularly direct highly motivated traffic to your site.
Help with Writing Product Descriptions ✔
A well written product description is crucial for any ecommerce website. Your SEO Consultant will provide you with expert advice covering what your product descriptions should include and how they should look. They will offer examples and advice as and when you might need it.
Onsite Content Consultation ✔
The content that you have on your site is a very important factor when it comes to your search engine results.
As part of our SEO packages we review the content that you have on your website. Once we have reviewed your content we provide you with feedback and recommendations regarding improving the content on your website. We have an in-house team of qualified and experienced copywriters and, if needed, we can rewrite your content or write fresh new content for you from scratch. If the main issue with your website is the lack of quality content we will design your campaign around first of all improving this major factor of your website optimisation.
Advanced Usability Testing Including A/B Testing ✔
Your SEO Consultant will delve right into the heart of your website and discover exactly where your website might be failing your visitors. They will carry out a range of tests and experiments to discover what the optimum set up is for your website that will bring you an increased conversion rate and report all their findings back to you.
Advanced Research and Development ✔
Your SEO Consultant will conduct deep and thorough research to find out new ways to improve any aspect of your website. This might involve exploring new link building strategies, experimental usability techniques, altering the content of your site or anything else they can do to help you achieve your goals.
SEO Brainstorming and Recommendations ✔
Your SEO Consultant will team up with other members of our SEO team, sit round a table and roll up everyone's sleeves to collectively explore any and all new techniques and approaches for your website. Pushing the boundaries for your benefit.
No Contracts! ✔
We are so confident in our abilities that all of our SEO services come with no contractual obligation on your part.
We believe that SEO is ultimately all about getting traffic to your website, increasing your social exposure and converting visitors into customers; unlike our competitors we don't ask you to sign up to big lengthy contracts.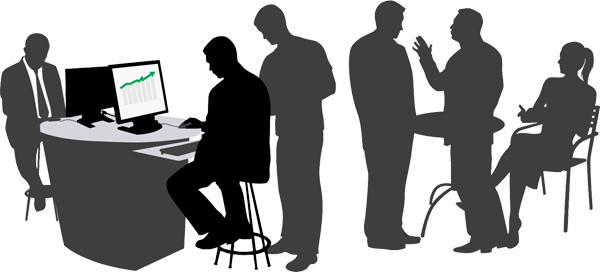 Give us a try and let us show what we can achieve for you today!