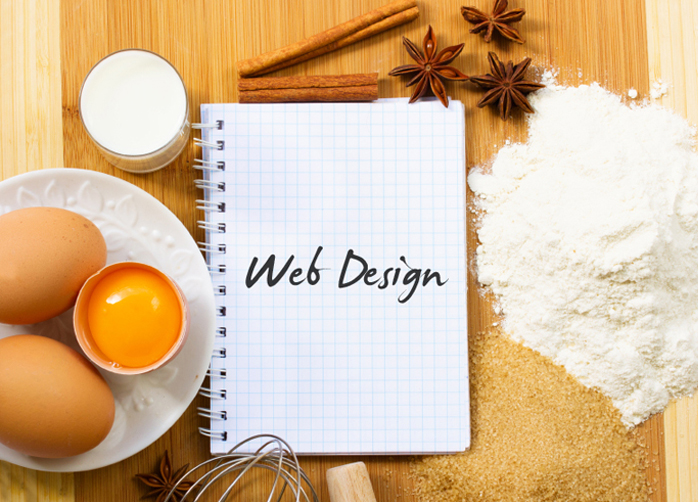 When it comes to designing an effective website which fits its intended purpose perfectly, the whole process could be likened to baking a cake: Too much of one element and the whole thing could collapse, not enough of another ingredient and it may never form into a cohesive, satisfying whole.
A recipe is necessary
Throw a couple of eggs into a bowl with some flour and milk; and you might have the starting point of a delicious culinary creation: Or a disaster.  To guarantee that the latter is averted, a recipe is vital.
Instead of just throwing a bunch of ideas out there and hoping for the best, any designer worth their salt will tell you that it is only possible to create an effective website design if there are clearly defined goals, ideas and technical details about what it is that the project is attempting to achieve.  Without these, the whole process will simply be a stab in the dark.
In the case of web design, there is a very important process which should never be neglected before a single pixel is put in place: This is to draw up a detailed, comprehensive set of project specifications, which takes into account the design brief: In essence, this will be used by a web design company as their 'recipe book', which can be referred to throughout the project in order to inform each design, technical and usability decision that is made.
Effective communication is vital
The level of communication between a web design company and their clients can make the difference between embarking on a project with clearly defined parameters, or on simply going on gut instinct.
By opening up an effective channel of communication between both parties in a project, it becomes possible to gather all of the necessary information to ensure that the project is completed on time, within budget and in a manner which will result in the production of a successful, effective website design.
Smart web design companies will assign their clients a dedicated project manager: This approach means that a good relationship can be built over time, and helps to prevent the frustration of having to explain the same things over and over again to different people within an organisation, as can be expected when customer service is handled by call centres or automated ticketing systems.
Whilst a lack of communication is sure to spell doom for any project, too much talk can also hurt development: We've all spoken to people who excel at getting a frightening amount of words to fly out of their mouths, but who often fail to actually say anything useful when it matters.  Effective communication is about making each conversation, email or meeting a catalyst for moving a project forward.  Each time communication is established, it should be to guide the project a step closer towards completion, not to hinder progress.
A user-centric approach is critical
All too often, it is possible for clients and designers alike to fall into the trap of building up a site based upon their own personal tastes: Instead of putting themselves in the shoes of the people that the website will be aimed at: The end users.  There is no place for ego in any website design project.  There is no use in designing in an element because you 'like it', if the audience doesn't.  The difference between successful designs and those that are out of touch with their users is defined by an ability to put personal views aside and make the end user the main focus of the design.
You may also be interested in: