If you are in ecommerce and using your website to promote your brand (and really, why else would it be there?), the site needs to represent you well. Just like you wouldn't allow a brick-and-mortar store to fall into disrepair, your website should always be in the best possible condition. If your store is falling apart, no one would want to shop there. If your website is falling apart, people won't want to shop there either.
All of your efforts to market your business lead back to your website. For this reason, you need to take your online image seriously and your site needs to be set up correctly.
Creating a solid online presence isn't easy. In fact, it can be downright daunting. Sometimes, though, knowing what not to do can put you leaps and bounds ahead of the game, which is why we're offering this list of common pitfalls that you can avoid in your effort to use your site to its full potential and advantage.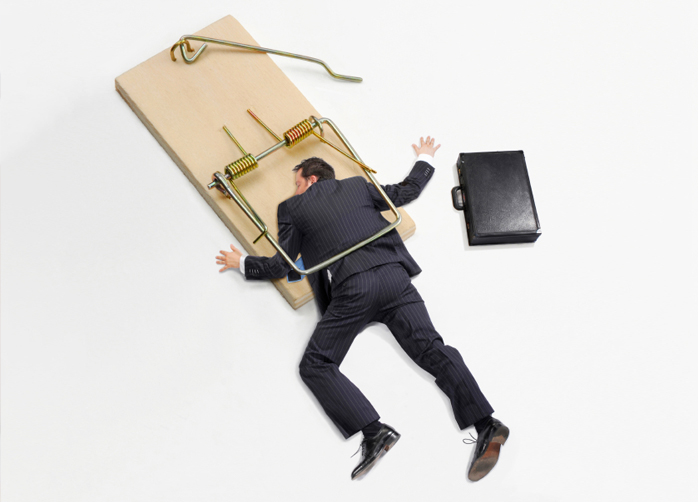 1. Not Having a Marketing Strategy or Business Plan
Visitors will not show up at your site by chance but many newcomers to ecommerce expect just that: they believe that if they choose the right domain name that alone will generate traffic. Even if that were true (and it isn't), traffic alone is not what is going to make your site successful. Targeted traffic with a good Search Engine Optimization (SEO) strategy in place will. Getting that right requires knowing who you are targeting and that requires a marketing strategy and business plan.
The number one mistake that most people make in ecommerce is that they do not regard their online business like a traditional one. While there are marked differences, the basics of marketing still apply. What are you selling? Who is going to buy it? What problem will your product or service solve for your customer? Who else is competing to reach that same niche? Have your strategy and plan mapped out before you start designing your site.
2. Underestimating the Task
There is no fast lane to web design, no matter how many companies claim that you can "set up a site in minutes." While it's true that the basic framework of your site can be set up quickly, SEO, responsiveness and optimization are developed, not simply applied. All of these things relate directly to the design of your site and web design is progressive, not static.
The process of developing your site is an exercise in trial and error. Your site design team should be willing to work with you and implement changes quickly and often. It could take several tries and a bit of creativity on everybody's part to get the results you're after. Implement solutions one at a time and track the results. Your hosting company and design team should be able to provide and show you how to use tools to do that.
3. Choosing Cost Over Quality with Hosting
There are a number of free hosting services out there like Blogger, WordPress, Weebly, etc. Logic tells us, "Don't pay for things you don't have to."
That said, the effectiveness of free hosts varies with the product or service you are providing. Quite often, not having a dedicated domain will work against you; it will cause some people to not take you seriously.  You also don't own the content that goes on the site. Many people aren't aware of that. For a small monthly fee it is worth it to maintain your identity and create value for your brand via paid hosting.
4. Putting Too Much Weight on Blogging
While we all contemplate the irony of a blog post touting the benefits of less blogging, let's step back and consider a few things…
Blogging is an effective tool. It allows you to put meaningful content in front of your customers and the search engines LOVE meaningful content. The problem isn't with having a blog, it's with making your blog do all the work on your site. Your blog should exist to draw people in. It's the virtual storefront for your business. Use it as a compass more than a focal point. Use it to direct traffic to relevant pages, not just to talk up products or deliver sales pitches.
5. Creating Disparity Between Message and Design
It's human nature to judge a book by its cover so, by all means, make your website design site look great. In your effort to do that, however, don't lose your grip on your message.
It all goes back to having a plan and strategy. Your website needs to reflect these things, not deflect them. Balance visual appeal with great content. Get them in the door, then make them want to stay.
These are just a few of the considerations that arise when designing a site for your business but if you take them all into account, the heavier decisions will be easier to make.
You may also be interested in: