Once upon a time some scientists invented the internet…
Now Google have produced a book to showcase some HTML5 action and to teach you about how good their browser is at doing all the stuff being online involves, both behind the scenes and on screen. The book is indeed an excellent application of HTML5 technology at work which you can use online or offline and is of course yet more clever marketing from Google, (which I am helping with by passing this on).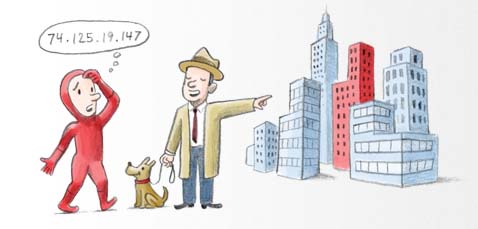 Having said this, the book looks great and is a well produced basic informational source which could be really helpful for beginners. Plus it can be viewed in any HTML5 compliant browser so you don't have to have Chrome to read it.
Chapters are as follows…
What is the internet?
Cloud Computing
Web Apps
HTML, JavaScript, CSS and More
HTML5
3D in the Browser
A Browser Madrigal
Plug-Ins
Browser Extensions
Synchronising the Browser
Browser Cookies
Browsers and Privacy
Malware, Phishing and Security Risks
How Modern Browsers Protect You From Malware and Phishing
Using Web Addresses to Stay Safe
IP Addresses and DNS
Validating Identities Online
Evolving to a Faster Web
Open Source and Browsers
19 Things Later…
Did you learn anything new?
I really like the illustrations actually, which were done by Christoph Niemann who has a great blog in the New York Times called Abstract City.
You may also be interested in: