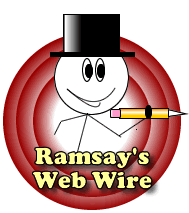 In the absence of the infamous Web Wire last week I'm taking on the astounding task of recapping the last two weeks of news in one meaty instalment. An instalment so packed with flavour it makes Gordon Ramsay's Best food seem as flavour-full and exciting as a Parma Violet from Gwenyth Paltrow.
But what's happened on the web in the last two weeks? Well it seems everybody's up in each other's business again in an internet standoff as they all search for that metaphoric chest of gold. Twitter's doing Analytics, Facebook's doing email and Microsoft is making apple look fruity!
Twitter Analytics
Analysing data from trends to traffic should be the bread and butter (and possibly even jam) of any good website because only by learning from the past can we improve the future. Ah, poignant in both life and online business. For long enough Google has been the golden boy of web analysis but it seems Twitter fancy a bash at the same game.
What does this mean for your business? It's all good! Social Networking can be a big part for any businesses online profile (unless it's a funeral director "Cremated Granny. LOL!") so additional inside data from Twitter Analytics will certainly be a bonus. Twitter Analytics is set to become available in the very near future.
The Gmail Killers
Another culprit who seems to have over-stepped their boundaries is Facebook. Not only are Facebook looking to branch into Search Engine type results, they're also releasing their own variation on an email service. On top of this they have apparently suggested that this new service could be a potential 'Gmail Killer' which has no doubt further irked the Search giant. Talk about poking the Bear.
Is Google Sweating?
Of course Google probably aren't too worried. Trying to 'kill' Google is a lot like trying to wipe out the common cold, it ain't gonna happen. Not that using Google's a disease, but it's certainly infectious. At a recent Internet Conference in Las Vegas Bing announced that they use 1,000 signals for ranking websites within their algorithm, at which point Google turned round and said "Is that right? Well we use 10,000 signals and my dad's bigger than yours!"
Perhaps the second part was ad-libbed but this revelation has certainly surprised SEO's and webmasters who previously thought Google's ranking signals only extended to 200. That said, it's only 10,000 because each signal has 50 variables so perhaps it's more a case of Google and Bing's ongoing urinating contest.
Rotten Apples
Speaking of urine and competitors, Microsoft has released a hot steamy stream on Apple with a recent animated Ad. While quite a cool and well made style of Advert its clear purpose is to make Mac books look like a poor man's Laptop (and also a little bit of a simpleton it seems).
As a final nod to the up and coming on the web, Firefox browser (The Good) has taken Chrome(The Bad?) and IE (Clearly the Ugly) by surprise with the new super fast Firefox 4 Beta 7. And lastly, the new social browser RockMelt may have left Google a little perplexed after they created Ad free Google Browsing.
You may also be interested in: