Bing annouces its new social search features which helps you find the hottest trending social topics.
More »
Yahoo releases a very entertaining new image page. But how useful is it?
More »

Googles new features highlight the increasing importance of Discussion in search results.
More »
The effects of the record levels of snow over the last few weeks is reflected in record breaking weather and transport searches this year.
More »
Microsoft is again pushing deep into hallowed apple turf with its new, free, Bing App for the iPhone. This new addition, available from the iTunes, has some useful features such as voice recognition and location aware searching and map information.
More »
Google Chrome's new Quck Scroll feature provides improved search functionality boosting Google's bid to increase chrome users.
More »
Google has just presented another Cozy Digital and refinement to the way it reports search results to its users.
Announced yesterday on Google Blog , though not yet available to all searchers, Google is including recently posted information from sites such as Twitter and Google News within the search results. Read the full article >>>
More »
Yesterday Matt Kelly, associate editor of the Daily Mail, claimed that chasing high rankings in search engines and following SEO advice has lead to the dumbing down of news and suggested that online news outlets need to change their approach and begin putting high quality journalism back as their primary focus.
More »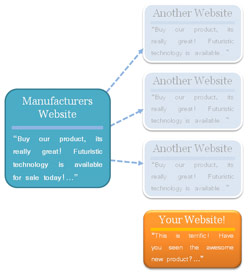 Websites are all about content, no matter the purpose or topic, it's the content that attracts new users and retains old ones. This content comes in many different forms, from text and images to newer more cutting edge technologies such as video.
With all this information flying around, it's easy to get caught up in the idea that your site needs content at all costs – surely a website put together quickly, full of content, with many pages is better than a smaller site with bespoke content, right?
More »
Seismic shocks rippled through the online world yesterday, the owner of some of the web's most respected and well known news sites could be seeking removal from perhaps the world's most popular search engine, Google. Rupert Murdoch has been looking for a solution to the online news problem for a while – online visitors to […]
More »