Well, the US Hitwise search engine trends are in for this month and nothing seems too out of the ordinary, with little change in any direction. However, if you look a little deeper there's definitely more there than meets the eye. While Google saw little more than a minute rise in its searches, it is in the supporting roles that the real interesting stuff is taking place.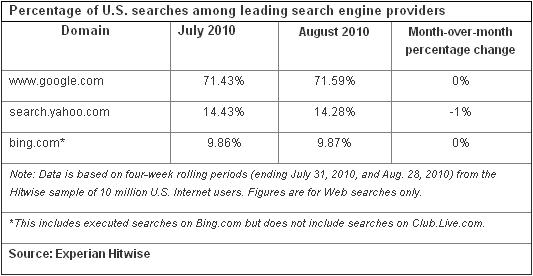 Any SEO who hasn't been marooned on an island for the past year will be well aware that the merger between Bing and Yahoo is well underway with Bing now powering all search results for Yahoo in the US and Canada. But what exactly does that mean? Well from an SEO standpoint it basically means that optimisation for Bing has taken a huge leap. Being created from the same engine means that for all intents and purposes Bing now controls both their own (9.87%) and Yahoo's (14.28%) market share of searches for the last month. This equates to a market share of 24.15% for Bing as a whole.
What Does this Mean?
So now that Bing and Yahoo have gotten into bed together like Bert and Ernie, can they really take on the Big Bird? Google is still controlling over 70% of the market and this has always been the major factor in controlling the way that SEO's direct their efforts in a somewhat steep slant towards Google. In terms of organic optimisation for results and advertising it was always the case that more heed was paid to the Google Pagerank algorithm than anything coming out of the ugly sister's corner. It was simply the logical choice.
However with that quarter of the market for searches and advertising now under one roof, it will certainly bring Bing's ranking methods and the united advertising front well into the limelight.
Good Idea, Bad Idea
Certainly good for Bing, and good for SEO's if they know how. The put off has always been that optimising and advertising for Yahoo and Bing wasn't really worth your time. But with this amalgamation comes the possibility to kill two birds with one stone. From a business standpoint, by only optimising for and advertising on Google you are missing out on 1 of every 4 searches. Well worth some consideration.
Those who have kept abreast of the Bing and Yahoo's development and do some additional research for Bing results and ads have put themselves in good stead to move forward with gaining now more valuable Bing results.
Bing is set to take over Yahoo results in the UK in the very near future.
You may also be interested in: