Finding an Edge to Your Small On-line Business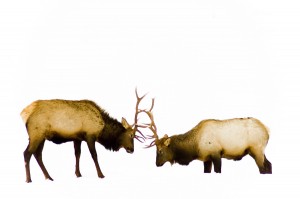 So, you're considering starting up a small on-line t shirt website, or perhaps your gearing up to launch an on-line book-store. In any case you'll almost certainly feel like the smallest of fish in the big pond that is the web.
The fact is, it is going to be difficult. There are no short-cuts in on-line business and if something looks like a short-cut, it's more than likely unethical and is liable to get your site completely thrown out of the search engine listings.
So how do you compete ethically with the big businesses?  Well ethical SEO isn't just about ticking the boxes on a set list. You have to do what's right for your website…
Find Your Niche
If you are a small company just starting out then you're going to have to know your niche. What separates your company from the countless others on the web, each jostling for a place at the fore? Once you figure this out, then you can start to develop your business and your SEO.
It doesn't even have to be something outlandish to make you unique. If you're running a t shirt website you don't have to target yourself as 'the site for melon yellow t shirts'. You simply have to find the aspects of your site that are unusual and people will be interested in finding. Do you offer some unique brands, do you provide plus size t shirts, are your designs; retro, funny, movie references, political, offensive?
There will no doubt be an aspect of your products or business mantra that makes you unique. Make this stand out!
Offer Something More
Does your site function the same way as all of the other sites out there? Does it provide the same t shirts? Perhaps then you're just going to blend into the crowd.
Try to make your site unique in some way. Much like finding your niche, here you must find your sites draw. If you are offering t shirts would you be able to let the customers design their own for you to send out? If you sell jewellery could you allow users to put a unique inscription on the package or the item itself? If you sell DVDs could you include the trailer for the movies on the site?
Creating a unique feature on your website will make your site that little more palatable than your competitors and will bring in customers looking for the specific trait you offer.
Optimise the Right Way
Search engine optimisation is important but if you're the new kid on the block and you're up against websites that have ranked for the top keyphrases for years then you might think that getting into the rankings is far beyond you.
If you have the tools at your disposal to compare your site against the competitors, you will no doubt find that the best in the business have unfathomable volumes of links, perhaps to the extent that you would never be able to compete on sheer volume alone.
Well, if you can't compete in the standard way, you will need to find your own keyphrases. As we've pushed throughout this article, you want to find your sites unique features and play on them. Well, with regards to optimising for keyphrases, you'll want to consider more long tail keyphrases. These are keyphrases that are composed of 3 or more words. These more specific terms can be used to more precisely define the contents of your site.
Can't rank for 'funny t shirts'? What about 'funny movie t shirts', 'funny t shirts for men' or 'funny baby t shirts'? If you provide a specific group of items then embellish this. Optimise pages of your site as effectively as possible for these terms.
While the traffic volumes for long tail keyphrases will not be as high as other keyphrases, they will be easier to optimise for and will at the end of the day be more valuable as they are coming from searchers who clearly know what they are looking for.
Get Personal
We don't mean start a vendetta with one of the on-line superstores by this. What we mean is use a personal touch to enhance your business. Where many of these large companies fall down is that they simply can't connect with their customers on a personal level.
As a small business you can add that personal touch for relatively little effort and no extra cost. Facebook, Twitter, Pinterest, there are a plethora of social sites where you can connect and interact with your customers and potential customers so make sure that you use them to full effect.
Make sure that you're not simply posting once a week with an update on the business because no-one wants to read that. Post about fun and interesting stuff, ask people for feed-back, give updates on new products or features of the site and above all interact. People like to know that there's a person on the other end of a business.
Go For It
Using these key factors in the right way will help you to find your place on-line, and while you might not be competing with the big boys just yet for the key terms of your industry, you'll be able to carve yourself a hole in the wall and build from there.
Once you are able to establish your business and turn a profit, then you can start looking to become the next on-line superstore.
Stag image courtesy of Benjamin Earwicker.
You may also be interested in: