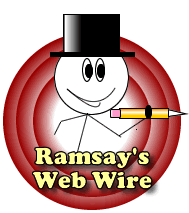 At the Cozy Digital research facility deep in the Arctic tundra, something is stirring. Having been snowed in for what feels like weeks now people are starting to crack. But not me! They think they've got me fooled but I know one of them is the alien! Somebody in this camp ain't what he appears to be. In the mean time however, I've kept myself sane with a combination of good old fashioned SEO news and talking to Jimmy the Wizard. He's Invisible!
Analytics TV!
You can tell that Google haven't had the frosty problems that we have as they continue to pump out news and tips faster than a Burberry clad 'lady' pumps out sprogs in track suits. First up is the ever popular and ever insightful Web Analytics TV. With a brand new episode we were eager to view it after the cliff-hanger they left us on last time. At 30 minutes long it's a sizable chunk of info to take in, so we included a broken down list of questions and times so you can jump right to the key information you want.
AdSense and Sensibility
Like gamma radiation, advertising revenues have turned Google into the global monster business that it now is. Like two sides of the same coin, AdSense and AdWords give you the potential to use advertising in different ways. AdSense got a little more… erm 'sense' this week with some additions to how you can control the ads appearing on your site. AdSense isn't perfect and you can sometimes get the wrong ads popping up in the wrong areas. If I had a penny for the number of times adverts for dogging venues popped up on my pets website…
Well now you don't have to worry so much as AdSense users are getting more control over the adverts that appear on their site. Don't like a particular ad? Ban it! Don't like a competitor's ad on your site? Ban them? Don't like a particular type of ad… You get the point.
AdWorthy AdWords
On the coins flip side is AdWords which I've decided is this coins 'tails' by the way, as some peoples ads are full of sh… Anyway AdWords is now giving users the option to identify their clicks. With so many ad extensions springing up like picture ads and sitelinks how could you know what feature of your ad was ringing people's bells? Well now AdWords identified clicks means you can find out and incorporate the most successful features into all your ads.
Mobile Internet Trilogy
Finally this week Google Analytics are providing some pretty useful insight into how the mobile internet could affect your online business in a trilogy of posts covering key areas of the topic. As with all trilogies there's bound to be a dud in their somewhere: Back to the Future, Indiana Jones (the fourth has been ignored for the sake of all movie integrity), Die Hard and The Man with No Name Trilogy to name a few.  The Matrix has been entirely removed as the second and third aren't really movies in as much as they are a skid-mark on the Wachowski brothers previously pristine tighty-whiteys.
Can you think of a movie trilogy that's perfect from start to finish? Winning answer gets the Spy Kids Trilogy on DVD. Or not.
You may also be interested in: