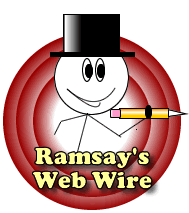 This week we've been taken around the world with our variety of news, so I thought to myself why not have an earth theme blog? It's my second favourite planet after all, after Mongo. But don't worry; we won't fall into the old trap of doom and gloom global warming and carbon footprint rubbish. That stuff's made up anyway. No, this week's blog celebrates Earth for being great and all the countries that make it that way, but not France. Never the French.
We celebrate good countries like Brazil for well, Brazilian women who love to play volley ball. They've certainly made that sport entertaining, and I don't even know the rules. Also, how about Japan for taking everything and making it infinitely smaller. Want some fish? Here, have a tiny raw bit on some rice. Gee, thanks buddy!
First up is America, who seem to be taking over British search results. An update to the Google search algorithm has opened the gates for .com sites from the states to pop up in British searches. Matt Cutts goes over the pros and cons of this change. This prompted the question, how often does Google change its search algorithm. Don't be too hard on America though, at least they gave us… umm, cowboys? One good thing coming over from American shores is the Nexus One. Google's first self-designed Android phone has finally reached our shores, but will it or the HTC trump Apple?
Elsewhere Brazil got fired into Google over data and removal request figures published on their government requests page. I doubt many would have banked on Brazil being the top country for data and removal requests online and furthermore being the first to complain about figures. Where was Germany in all this?
What about Hawaii, they like hula dancing don't they? Speaking of Hulu (tedious link, I know), the US TV streaming site could be introducing pay-to-watch features in addition to their free stuff. With many video streaming sites going this way what do you think about it?
As a final tip of the hat to good old Earthy, Google Earth and Google Maps have finally got together, and with their powers combined they are… Captain Planet! Well not really but Google are giving everyone some better than ever views of the planet with 3D images now available through using their Maps application. There are some pretty astounding images so I advise you to take a look.
In other web news this week Google were working to protect users against fake anti-virus software as the number of domains involved in distributing harmful software was on the up. In addition, Google AdWords is taking a new approach to how you advertise so find out now if your campaign is working. While you're at it why not look into our article on bounce rates and find out why Chrome adverts might be missing the point. Honestly they're like something out of a French horror movie.
You may also be interested in: